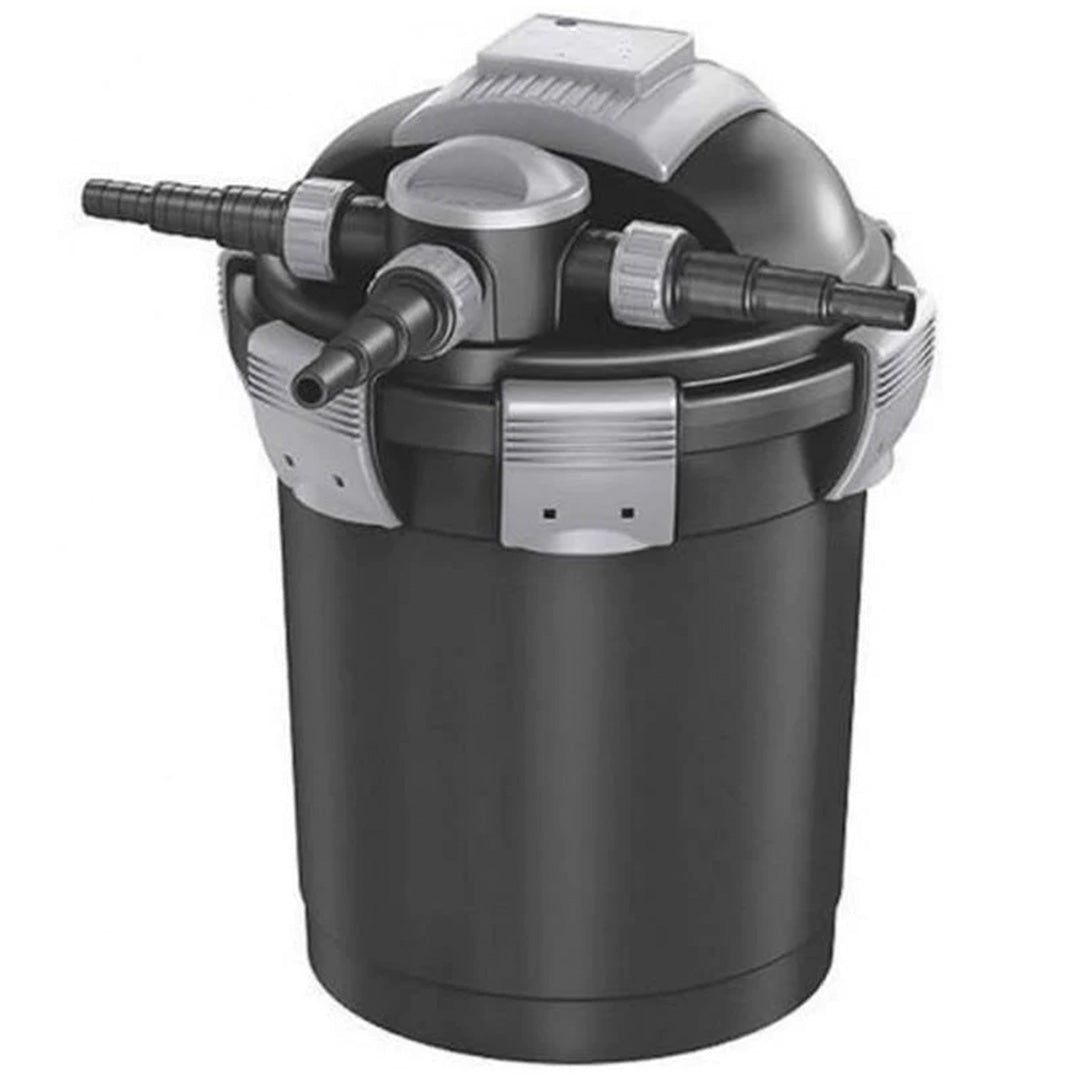 SuperFish TopClear Pond Filter
Superfish TopClear pressurised pond filters are a complete filtration system for your garden pond, combining pump, filter and UV Steriliser.
The TopClear space saving pond filter comes complete with filtration foam, bio balls and built in UVC for clear and healthy water for your pond and its inhabitants. Kits come with the pump to save you the hassle of choosing the right one for your filter! No hose included so this will need to be purchased separately.
Easy to install the system can be buried in the ground up to its lid if required to conceal most of the unit leaving it to run its high performance filtration whilst out of sight, avoiding clutter around your pond.

Cleaning the system through via the 'Clean Backwash' function is as simple as turning the large dial on top of the TopClear filter and directing the water from the 'Clean Backwash' outlet to a suitable waste location.
Every TopClear filter kit includes
TopClear pressurised pond filter
Pond Flow ECO pond pump
Built in UV steriliser
Hosetails x 4
Biological and mechanical filtration for efficient removal of dissolved and solid waste
Reliable water supply of higher-positioned watercourses
Built in backwash cleaning system
Including powerful PondFlow ECO pump
Integrated UVC clarifier
Superfish 2 year guarantee

SuperFish TopClear 10000
Suitable for ornamental ponds up to 10000L
Suitable for Mix of fish & koi ponds up to 5000L
Pump max flow: 2900L/h
Pump height max: 2.3m 
Pump wattage: 45w
UV Wattage: 9w
Inlet/outlet: 25/32/40mm
Dimensions: 35 x 44 x 46cm (L x W x H)
We'll ship your order within 24 hours of receiving it.
Get in touch if you'd like to know more about a product before you buy it.